South Africa? Where's that?
We're on the southern tip of Africa (that lozenge-shaped continent east of America, south of Europe and west of China), where the Atlantic and Indian Oceans meet. We have nine provinces: Gauteng, the smallest and most densely populated, adjoins Limpopo, North West and Mpumalanga in the north; the Northern Cape, the largest province with the smallest population, is in the west; the Free State is in the middle of the country; and the coastal provinces of KwaZulu-Natal, the Eastern Cape and the Western Cape lie to the south. Well, what's the place like?
Believe it or not, we have cities. With roads. And skyscrapers. And electric lights. And traffic jams. South Africa is the powerhouse of Africa, the most advanced, broad-based economy on the continent, with infrastructure to match any first-world country.

You can drive on wide, tarred highways all 2 000 kilometres from Musina at the very top of the country to Cape Town at the bottom. Or join over 7-million international travellers who disembark at our airports every year.

Two-thirds of Africa's electricity is generated here. Forty percent of the phones are here. Twenty percent of the world's gold and 77% of its platinum is mined here. And almost everyone who visits is astonished at how far a dollar, euro or pound will stretch ...

And the people?
South Africa is a nation of over 46-million people of diverse origins, cultures, languages and beliefs. Africans are in the majority at 37.2-million, some 79.4% of the population. The white population is estimated at 4.4-million (9.3%), the coloured population at 4.1-million (8.8%) and the Indian or Asian population at 1.1-million (2.5%).

And we're good company. "We can say that the people of South Africa were always friendly, very boisterous and constantly celebrating during our visit to the country," Fifa's inspection team said in their country report. "[They] would stop and show their joy and support of the country's commitment whenever our group passed by."

Do South Africans speak English?
Yes, indeed. Everywhere you go, you can expect to find people who speak or understand English. English is the language of the cities, of commerce and banking, of government, of road signs and official documents. Road signs and official forms are in English. The President makes his speeches in English. At any hotel, the receptionists, waiters and porters will speak English.

Another major language is Afrikaans, a derivative of Dutch, which northern Europeans will find surprisingly easy to follow.

What cities will host the 2010 games?
The 2010 tournament will be staged in nine South African cities: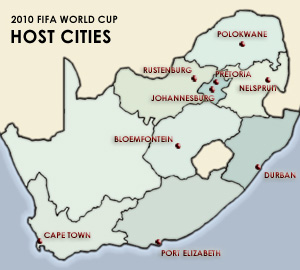 (Image: Mary Alexander)

Johannesburg - The economic hub of Africa, Johannesburg is a bustling, sprawling city of contrasts, spread across the small but densely populated province of Gauteng. Two Johannesburg stadiums will be used for the event.

Pretoria - A pretty, quiet city north of Johannesburg in Gauteng, Pretoria is the capital of South Africa, with a long, involved and fascinating history.

Cape Town - South Africa's oldest and loveliest city lies in Table Bay on the Atlantic Ocean, in the south of the Western Cape province. Beautiful buildings, the nearby winelands, long white beaches and a rich cultural life make Cape Town South Africa's most favoured tourist destination.

Durban - If Johannesburg has a business culture and Cape Town a culture culture, Durban has a beach culture. The warm Indian Ocean and the city's tropical climate make it one of the nicest places to be in the South African winter.

Port Elizabeth - The Friendly City lies in Nelson Mandela Bay on the windswept Wild Coast of the Eastern Cape province.

Bloemfontein - The former capital of a Boer republic and now capital of the Free State, Bloemfontein - the name means "flower fountain" - is a pretty city with thousands of rose bushes and some poignant memorials.

Rustenburg - Its tranquil Jacaranda-lined streets belie the fact that the Rustenburg area in North West province is one of the world's most heavily mined regions, with a wealth of platinum underground.

Nelspruit - The capital of Mpumalanga province lies in the fertile valley of the Crocodile River, about 330km east of Johannesburg.

Polokwane - The capital of Limpopo province is ideally situated near the border of the wildlife-rich Kruger National Park.

And the stadiums?
World cup matches will be held in 10 stadiums:

Soccer City (Johannesburg) - The Soccer City stadium near Soweto in Johannesburg is to undergo a major upgrade for the 2010 tournament, with a new design inspired by traditional African pottery and a revamped capacity for 104 000 football fans. The stadium will hold the final and opening matches, five first-round matches, one second-round match and one quarter-final.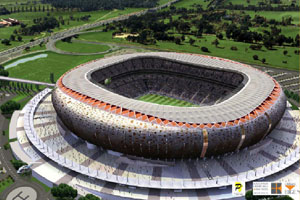 An artist's impression of the new and upgraded Soccer City stadium in Johannesburg (Image: South Africa 2010 Local Organising Committee)

Ellis Park (Johannesburg) - Ellis Park, which lies near the Johannesburg city centre, is to undergo minor upgrades for 2010, and has a capacity of
60 000. It will host five first-round matches, one second-round and one quarter-final.

Greenpoint Stadium (Cape Town) - Greenpoint Stadium is to be specially built for 2010, with a view out over Table Bay and the magnificent vista of Table Mountain forming a backdrop behind it. The stadium will have an all-weather retractable dome roof and a capacity of 70 000. It will host six first-round matches, one second-round, one quarter-final and one semifinal match.

King Senzangakhona Stadium (Durban) - The stunning King Senzangakhona Stadium is to be specially built, with a walkway connecting it to the Durban beachfront. With a capacity of 80 000, it will host six first-round matches, one second-round, and one semifinal match.

Nelson Mandela Stadium (Port Elizabeth) - Also to be specially built for 2010, the Nelson Mandela Stadium will have a capacity of 50 000. It will host five first-round matches, one second-round, one quarter-final, and the third-place playoff.

Loftus Versveld (Pretoria) - Loftus Versveld stadium is to undergo minor upgrades for 2010, and has a capacity of 45 000. It will host four first-round matches and one second-round.

Free State Stadium (Bloemfontein) - Currently known as Vodacom Park, the Free State Stadium is to have a major upgrade, with a third tier added, increasing its capacity to 45 000. It will host five first-round matches and one second-round.

Royal Bafokeng Stadium (Rustenburg) - Built by the platinum-rich Bafokeng community, the Royal Bafokeng Stadium is to undergo a minor upgrade, increasing its capacity to 45 000. It will host four first-round matches and one second-round.

Peter Mokaba Stadium (Polokwane) - The stadium is to undergo a major upgrade, increasing its capacity to 40 000. It will host four first-round matches.

Mbombela Stadium (Nelspruit) - To be specially built for 2010, the stadium has a capacity of 30 000 and will host four first-round matches.

How many tickets will be available?
Some 3-million tickets will be available for the 2010 World Cup's 64 matches. One third, or a million, will be allocated to South African football fans, another million to international visitors, and the third million to sponsors, teams and the "Fifa family". Tickets are likely to go on sale in 2008.

Should I come even if I can't get tickets?
Of course! The 2010 tournament is guaranteed to be, as we South Africans say, a jol . As in Germany in 2006, public viewing areas accommodating vast numbers of fans watching the games on giant screens are likely to be set up. And you can always watch the tournament and get to know the locals at our numerous pubs, restaurants and sports bars.

What time zone is South Africa in?
During June and July, when the 2010 tournament will be held, our time is the same as that in most European countries - including Germany - and an hour ahead of the UK. So matches that kick off at 9pm here should be comfortable viewing for Europeans, but people watching in California will have to skive off work at 12 noon, and pity the Socceroo supporters in Sydney, all huddled around their TV sets at five in the morning.

What's the weather like?
The World Cup will be held in the southern hemisphere winter, but it's warm here in Africa. Johannesburg will be dry, with sunny days and fairly chilly nights. Rustenburg, Pretoria and Nelspruit will be warmer, but Bloemfontein will be cold. Polokwane in the north will be dry and hot, warmer than most European summers.

Durban will be pleasant and warm, with some humidity - and the deliciously balmy Indian Ocean to swim in. And while Cape Town is magnificent in good weather - and it can have good weather in winter - in June the city is generally cold, wet and windy, and its ocean virtually frozen.

How will I get to South Africa?
By air - unless you have a boat or rugged overland vehicle. South Africa has 10 international airports, in Johannesburg, Cape Town, Durban, Port Elizabeth, Polokwane, East London, Bisho, George, Phalaborwa and Alexander Bay. Operated by the Airports Company of SA, these together handle over 200 000 aircraft landings and 23-million passengers annually.

All of the world's major airlines fly here, departing from most international airports. The national airline, South African Airways, serves more than 700 destinations throughout the world, carrying more than 6.5-million passengers every year.

How will I travel between the host cities?
By plane, train, automobile … or bus. The host cities are all linked by air and train routes, and South Africa has a number of first-rate tour bus companies to carry you in comfort. South Africa's road infrastructure is excellent, so it's a viable option to rent a car, a four-wheel drive or even a motorcycle. How will I get to the matches?
Okay, South African public transport is not up to the standard of New York or London, but as most of us don't own cars we make a plan. If you're adventurous you could take a minibus taxi, by far the most popular form of public transport. At the moment the national fleet is a bit of a wreck, but by 2010 a massive recapitalisation plan, currently underway, is likely to have replaced the old vehicles with larger and safer small buses.

Most of the host cities have Metrorail train and Metro bus systems, and there are numerous meter cab companies. Otherwise, you can rent a car or use your hotel's courtesy transport.

Where will I stay?
"The hotel sector in South Africa is first-rate," the Fifa inspection team said in its country report. "There are enough hotel rooms to accommodate everyone taking part in the 2010 Fifa World Cup, including media representatives and fans from around the world, both in the main towns … and in the other towns suggested as 2010 Fifa World Cup venues."

If you don't have the wherewithal for even the reasonable rates of South Africa's hotels, other options are the many bed & breakfast establishments in and around all the host cities, and over 150 backerpacker lodges.

Will I be able to phone home?
That, and more. With a network that is 99% digital and includes the latest in fixed-line, wireless and satellite communication, South Africa has the most developed telecommunications network in Africa. The country's three cellular operators provide telephony to over 20-million subscribers - nearly half the population. Is it safe to walk around?
Like anywhere, only if you don't go wandering about deserted streets at the dead of night. Yes, there is crime in South Africa. But, like the people who happily live here, you really don't need to do much more than take all the usual sensible precautions. Know where you're going before you set off, particularly at night, watch your possessions, and lock your doors at night.

"As long as people attending the 2010 Fifa World Cup ... keep within certain boundaries, they should not encounter any trouble," the Fifa inspection team said in their country report.

"The Inspection Group received an excellent, comprehensive work schedule from one of the high commanders of the national police, covering stadiums, media centres and main hotels, that will doubtless satisfy every requirement for the event."

Can I drink the water?
South Africa has a first-world infrastructure, but its water is far better than that of most developed countries. High-quality tap (faucet) water is available almost everywhere, treated to be free of harmful microorganisms and both palatable and safe to drink straight from the tap. Johannesburg's water, for one, is as good as anything you'll get in a bottle.

What if I get sick, or have an accident?
"On the whole, the health system has excellent facilities and perhaps one of the best private health systems in the world, drawing on modern technology and highly qualified specialists and medical staff," the Fifa inspection team said in its report.

"We have to add that there are fully equipped infirmaries with adequate first-aid facilities to meet every need in the stadiums proposed for the 2010 Fifa World Cup."

What's the beer like?
Cold and delicious. South Africans generally drink bottled beer, although most pubs offer a range of draughts. The major producer is South African Breweries, now a huge multinational doing business across the world. Lager is probably the favourite, followed by pilsener. In and around the stadiums, though, you'll only be able to drink beer produced by Budweiser, an official Fifa sponsor.

And the food?
Yummy, exotic and varied. As we said, South Africa's people have diverse origins, cultures, languages and beliefs, and their food is a correspondingly rich smorgasbord.

For the more daring, we offer culinary challenges from crocodile sirloins to fried caterpillars to sheep heads - delicious. For the less brave, there are indigenous delicacies such as biltong (dried, salted meat), bobotie (a much-improved version of shepherd's pie) and boerewors (hand-made farm sausages, grilled on an open flame).

On a single city street you'll find Italian restaurants, two or three varieties of Chinese cookery, Japanese, Moroccan, French, Portuguese and Indian food. Not far away are Congolese restaurants, Greek, even Brazilian and Korean establishments, and, everywhere, fusion, displaying the fantasies of creative chefs.

Other than watch football, what else is there to do?
So, so much, but where to begin? Try here: And the night-life?
Pubs, wine bars, township taverns known as shebeens, nightclubs, a variety of restaurants, mainstream theatre, avant-garde theatre, dinner theatre, movies … there are plenty of places to celebrate or cry into your beer after the match. Are there lions in the streets?
Um, no. But if you want to see lions - and leopards, elephants, rhinos, buffalos and more - visit one of the many wildlife lodges and game parks across the country, which include the huge and magnificent Kruger National Park.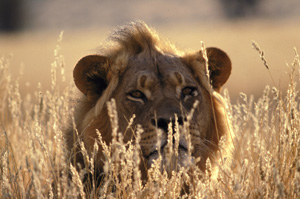 A lion in the Kgalagadi Transfrontier Park (Image: South African Tourism )

Is South Africa a democracy?
South Africa is a vigorous multi-party democracy with an independent judiciary and a free and diverse press. One of the world's youngest - and most progressive - constitutions protects both citizens and visitors. You won't be locked up for shouting out your opinions, however contrary. (But be careful about smoking cigarettes in crowded restaurants!)

What currency does South Africa use?
South Africa's unit of currency is the rand, which is divided into 100 cents. Coins come in denominations of 5c, 10c, 20c, 50c, R1, R2 and R5, and notes in denominations of R10, R20, R50, R100 and R200. With a favourable exchange rate for many international currencies, you'll find South Africa a very inexpensive destination.

Are there modern banks?
South Africa has a world-class, sophisticated financial sector, abreast of all the latest technological trends. From the moment you step off the plane you'll start seeing banks, bureaux de change and automatic tellers (ATMs) all over. All major credit cards can be used, foreign banks are well represented, and you can bank by ATM or internet.

And South Africa's national football squad?
The country's football team is known as Bafana Bafana - "the boys, the boys" in isiZulu - a name that comes from the fans' cry that went up during the squad's triumph at the 1996 African Cup of Nations, hosted in SA. Other than winning that tournament, Bafana Bafana have twice qualified - in 1998 and 2002 - for the Fifa World Cup since the end of South Africa's sporting isolation. What's this about being able to watch the games on my mobile phone?
Yes, indeed. By 2010, the people of the world will be able to catch every game live on their cellphones. South African company MTN, the leading cellular operator in Africa and the Middle East and a global Fifa sponsor, has won the right to broadcast exclusive mobile content, as well as global marketing rights. What is a vuvuzela?
Some would say it's South Africa's national musical instrument. It's a big plastic trumpet, brightly coloured, and is blown with gusto by all fans at every football match in the country. The sound it makes is something between the bellows of a constipated elephant and the buzzing of a giant swarm of baritone bees, but we like it.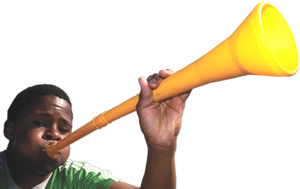 What's the difference between football and soccer?
Nothing. While the game is largely known as football in Europe, in the former British colonies - including South Africa, the US and Australia - it's called soccer, from the British Football As soc iation, best known for the FA Cup.

What benefits will South Africa get for hosting the World Cup?
It's been estimated that the 2010 World Cup will create some 129 000 jobs, contribute around R21-billion to the country's gross domestic product and another R7.2-billion in government taxes, with the 350 000 visitors spending a whopping R9.8-billion.

Why did Fifa award the World Cup to South Africa?
Fifa decided that the 2010 tournament would be hosted by an African country, with five countries - South Africa, Egypt, Morocco, Tunisia and Libya - in the running. In 2004 the organisation's inspection committee announced that South Africa had the potential to organise an "excellent" World Cup - compared to Egypt and Morocco's potential to organise "very good" World Cups, Tunisia's potential to organise a "good" World Cup, and the probability that Libya would "face great difficulties in organising a World Cup to the standards required".

Will Fifa sue us if we use the 2010 logo on our B&B website?
Only accredited Fifa partners and sponsors are allowed to use the logo in their publicity and advertising.

Are South Africans nice people?
Visitors to the country always remark on how warm, friendly and welcoming South Africans are. We've had a difficult past, so we don't waste time being difficult people. And we're expert at having fun.

Can I use my hairdryer?
Electricity is generally 220/230 volts, 15 amps, and is supplied through either 15-amp three-prong or 5-amp two-prong plugs, in both cases with round pins. If you're bringing anything electrical, bring an adapter – or you could buy one here. Generally, the 110V video chargers work safely on the 220V supply. Television is on the PAL system.

Is it true that there are robots on the street corners?
Yes, there are. In South Africa, traffic lights are known as robots , although no-one knows why. A pick-up truck is a bakkie , sneakers are takkies , a barbeque is a braai , an insect is a gogga and an alcoholic drink is a dop .

If it all gets a bit much, where's the best place to go to avoid the whole show?
There are many remote places to escape to in South Africa's varied landscape, from the massive Drakensberg range of mountains, which run like a spine down the length the country, to the weird rock formations of the Cedarberg mountains in the west, the Northern Cape's haunting Richtersveld area, and the vast plains of the Karoo desert. Or you could just find a secluded beach on the country's 2 500 kilometres of coastline and bask in the African sun. SouthAfrica.info reporter